Montreal, known for its vibrant culture and scenic beauty, is also a haven for dog lovers. With parks all over the city, pet parents have lots of choices for their furry friends. This article will guide you through some of the best dog parks in Montreal.
Our Paw-picked Selection of Dog Parks
1. Parc La Fontaine
Parc La Fontaine, located in the Plateau-Mont-Royal, is a huge urban space covering 84 acres. One of the largest parks in Montreal, it offers a dedicated area for pups. Parc La Fontaine also features beautiful fountains, ponds, and a theatre.
2. Parc Jeanne-Mance
Parc Jeanne-Mance is a popular spot located south of Mount Royal. Covering 35 acres, it offers a sizable off-leash area for canines to play and socialize. This spot also features tennis courts, a softball field, and a soccer field.
3. Parc Summit
Parc Summit is a hidden gem nestled in the Westmount area. This 57-acre park boasts a unique forest ecosystem in the heart of an urban area. Featuring diverse flora and fauna, it's a great spot for dogs to explore. There are specific off-leash areas where pups can roam free.
4. Sir Wilfrid Laurier Park
This 34-acre park in the Plateau Mont-Royal neighborhood has an off-leash dog park. A unique feature here is the agility equipment to exercise your pup. This allows for a fun, active outing for your fur baby and helps improve their physical fitness.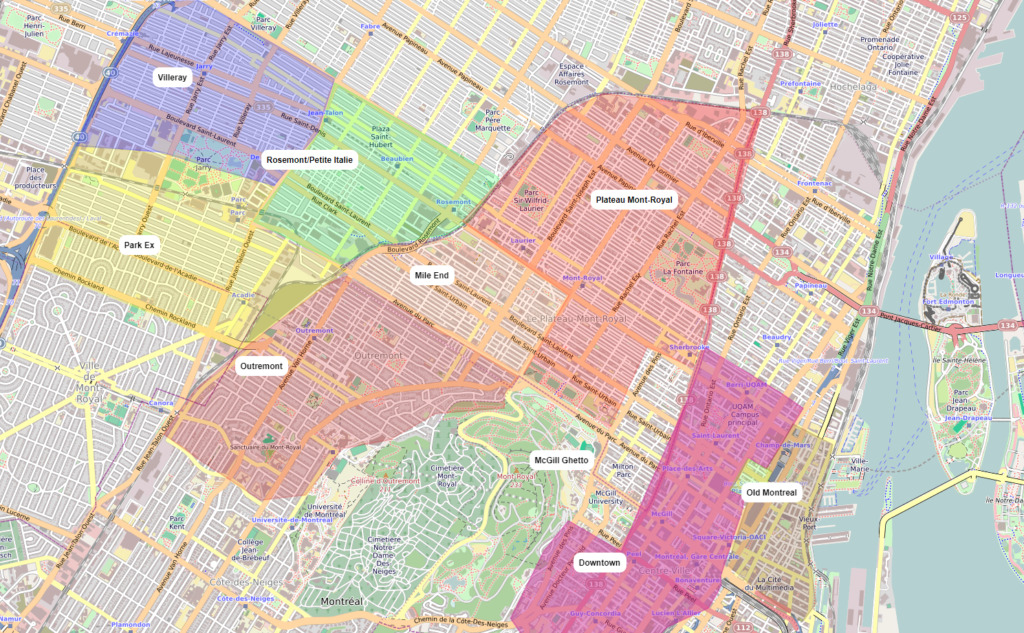 Best Dog Parks in Montreal – There's More!
5. Lachine Canal National Historic Site
Stretching for 14.5 km, the Lachine Canal National Historic Site offers a pretty path for dog walking. Although canines must be on a leash, the waterfront views make it a unique walking experience.
The Lachine Canal Path is also a popular spot for biking, jogging, and picnicking. Atwater Market is close and is a great place for grabbing a quick meal or shopping for fresh produce.
6. Parc des Rapides
Located in the LaSalle borough, Parc des Rapides is a haven for wildlife and pets. Dogs can roam in specific areas of the park, offering unique scenic views of the Lachine Rapids. This space is also a designated bird sanctuary, providing opportunities for birdwatching.
7. Angrignon Park
Covering 97 acres, Angrignon Park is one of Montreal's largest. It has an off-leash section that's well-fenced and spacious, making it a great area for puppies to run and play. There is a lake and miles of walking trails, which are perfect for on-leash dog walks.
8. Mount Royal Park
Mount Royal Park, one of Montreal's most iconic, offers many off-leash areas for dogs. These areas are well-kept and provide a safe and friendly space for pups to socialize. Covering 494 acres, this is a perfect spot to go hiking, biking, and picnicking. It's famous for its views of the Montreal skyline.
9. One of Our Favorites: Westmount Park
Westmount Park is in the heart of the city and offers a fenced dog section where they can play and socialize. The grounds are well-kept and provide a safe environment for doggies. The grounds cover 26 acres and include a beautiful pond, playgrounds, and a greenhouse.
10. René Lévesque Park
René Lévesque Park, situated on a peninsula in the St. Lawrence River, is a peaceful place to walk your furry friend. But, rules here need them to be on a leash, and the peaceful setting and stunning river view more than makeup for it.
Conclusion: Best Dog Parks in Montreal – Canine Companionship at Its Best
Our review includes information about play areas, off-leash zones, and water fountains. No matter if you want a stroll or a high-energy game of fetch, we have something for everyone.
If you are curious about the proper laws or rules for each area we discussed, then you can visit Montreal.ca. If you are looking for the best treats for your Goldendoodle or mini Golden, then read our guide. Let us know what you think!
I hope this helps, and let us know where you and your Doodle like to play!